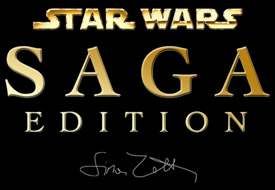 At the end of 2006 I decided to create a Star Wars DVD box set for all the six films of the saga with cover designs and disk labels. The name of this project is Star Wars Saga Edition, I used that title on the DVD box. The box design are finished but I haven't finished the cover designs yet.
The box consists of two parts: an outer and an inner half like the official classic trilogy box.
Outer box (turned around; click on the pictures for enlarge)
Inner box (click for enlarge)

After two years, I have created the plans for my Star Wars Saga Edition DVD box. According to the mails, I assume this update was the most wanted one among my visitors. (Thanks for Mina because she gave me the original plans I have changed.)
I have two versions. The first one is a simple box with one opened side. The second one is a double box like the classic trilogy DVD box – this was the original plan. In this case it might be problematic to fit the two boxes together, depending on the thickness of the cardboard you use. I tried it with an X mm thick cardboard and it was okay. If you want to use a thicker one, you need to enlarge the outer box with 0.2-0.5 %.
Plans must be printed out in the ratio of 1:1, the size given in the files.
No changes were made comparing to the preview pictures except that I put my logo on the bottom part of the boxes.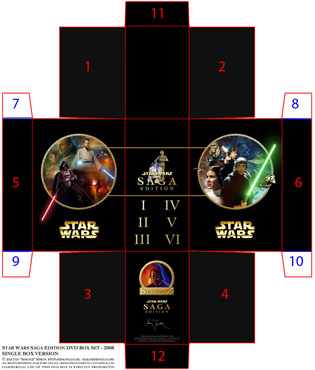 A small help for the folding: you should fold all red edges back while the blue ones should be folded up (to the black parts). The large black panels numbered 1-4 strengthen the two sides of the box. The tiny black vertical flappers (5-6) cover these panels. The smaller white flappers numbered 7-10 will cope over the inside of the top and bottom sides. Flappers numbered 11-12 are the last ones to fold; they will cover the small white flappers (7-10). This way you will get a black edge in the inside of the box. The box is strong enough therefore you do not need much glue, maybe some to strengthen the black panels (1-4) and the black edges.
If you decided to make this box, please send me a photo to mail (at) simonz (dot) co (dot) hu. I am curious to see them. Thanks a lot, and good luck.
DOWNLOADABLE BOX PLANS (PDF)
You need Acrobat Reader to open these files.
Print size must be the same as given in the PDF files.

SAGA EDITION DVD BOX | OLD DVD COVERS