May the Fourth be with everyone! To celebrate this day, I go back to the beginning of the Star Wars saga with a new poster entitled Choices.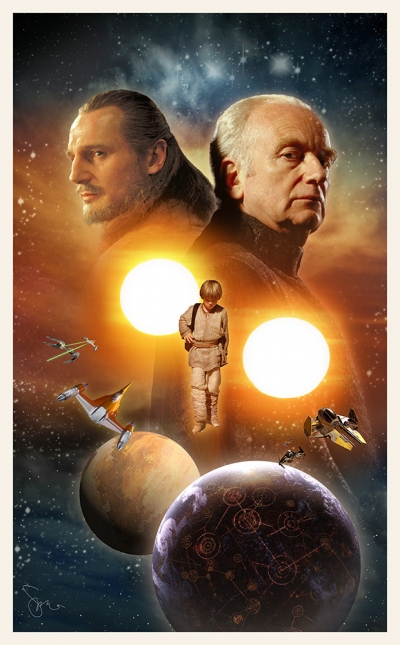 This picture is about the choices Anakin, the Chosen One, the son of the suns has to make during his life: choose between the Jedi and Sith, good and bad, light and dark. The choices are depicted by the mentors/father-like characters in Anakin's life: Qui-Gon Jinn from The Phantom Menace and Palpatine from Revenge Of The Sith. Their meeting planets are also included: the light, plain deserts of Tatooine, far-far away from everything; and the millions of lights in the darkness of Coruscant, the poisoned heart of the Republic. Naboo N-1 fighters from Episode I and Jedi Fighters from Episode III also enhance the timespan and depth of the picture.
Finally, a few words about Jake Lloyd, who played young Anakin in The Phantom Menace and who suffers from schizophrenia, a very serious illness that affects circa 1% of the population. I believe everyone of us in the Star Wars community wishes the best to him.