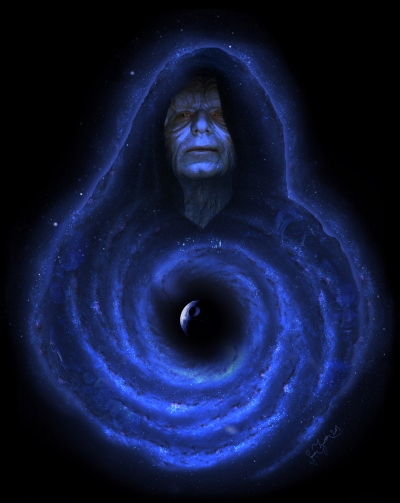 The Nature of the Dark Side originates from the novelization of Return of the Jedi by James Kahn:
He contemplated the dense impenetrability of the deep space beyond the window. Densely black as his soul – as if he were, in some real way, this blackness; as if his inner spirit was itself this void over which he reigned. He smiled at the thought; he was the Empire, he was the Universe.
This paragraph was the core of the poster, combined with one of the few feelings Palpatine can feel: the lust for power over all things (the other one would be rage). Therefore, the key messages were: total power and hopelessness.
Instead of pure blackness, I decided to use the galaxy on a black background and merged it with Palpatine to illustrate the sentence "he was the Universe". Darth Sidious looks like a tumor; his presence distorts the spiral arms of the galaxy and replaces the brightest center of the galaxy with blackness and the Death Star. This is his true aim, the aim of the dark side: replace life with death.