I launched the first version of simonz.co.hu this day in 2004. That time, it was available at simonz.web.elte.hu (the link still works but redirects to the new site).
Eleven years passed. Thank you very much for viewing, sharing and loving my works; it means a lot to me. Thank you for the feedbacks and messages. I love when you write me a few sentences about how did you use or enjoy my works. How you surprised someone you love with a Star Wars artwork that happened to be mine. Making a Star Wars room for your kid. Honestly, I feel myself deeply honored. I also thank you all for your support I will never know about, for example telling about my pictures to somebody or using them as wallpaper.
The eleventh birthday of the site would require something about the Eleventh Doctor, maybe. But I have nothing new in that topic – my white Doctor poster still remains the best picture about the 11th Doctor for me. So, there is something else for today.
Today's update is the third part of a series that started in August with Ben's Sunset and continued in October with Vader's Night. The last piece is entitled Luke's Dawn.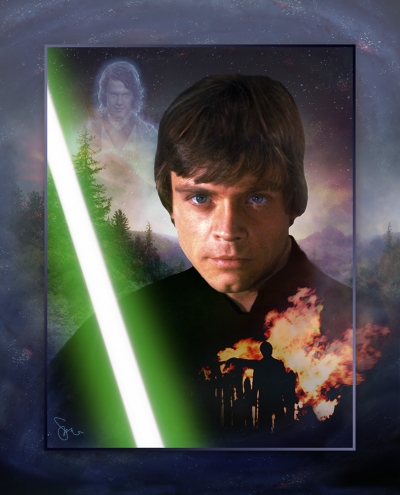 Luke's Dawn is the representation of a new era. After Ben and Vader, a new Jedi appears who unites the peaceful wisdom of the former and the momentum of the latter. Luke is the archetype of the young hero prepared for the fight he cannot (and will not) escape. He holds his saber in textbook-style, surrounded by the forests of Endor. His relentless faith in his father saves Vader and the feared flames that caused Vader's injuries enshroud his body again – now, to set him free. The circle is complete: Anakin's ghost looks down to us above Luke and a new dawn is coming in the galaxy far, far away.
I will present the whole tryptich with more info about how and why I made them later.