Today's post is a description of my only Harry Potter poster, originally published on July 18th, 2011.
This is the seventh episode of the Harry Potter book series therefore I wanted to picture the number "7" somehow, e.g. by using seven characters.
The appearance of the main trio – Harry, Hermione, Ron – is obvious as well as Dumbledore, Voldemort and Snape, considering their roles in unraveling the story. Dobby sacrifices his life for Harry and he represents the repressed parts of the wizarding world, this is why I gave him the seventh place. These four people do not survive the final chapter.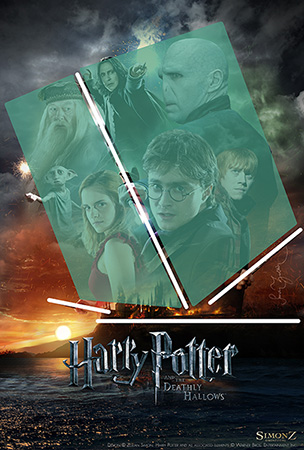 The composition is asymmetrical: some kind of axis is formed by the Elder Wand in Voldemort's hand and Harry's wand. The wands of the main trio are symmetrical to this axis and support the asymmetrical orientation (as well as other elements like the spell of Dobby). The balance is partially restored at the bottom with the horizontal shape of Hogwarts and the water. This has a calming effect on the movement created by the asymmetry.
Read more if you want to learn where are the Deathly Hallows in the picture!