I hope you all watched The Force Awakens, several times. I enjoyed it a lot; it has a real Star wars atmosphere; however it has its flaws, naturally. Anyway, I think it is a solid base for the future installments of the Star Wars saga. I am sure I will make a lot of pictures about The Force Awakens but today's update is something else.
I wish you a happy new year with the latest piece of my Star Wars episode poster series: The Empire Strikes Back.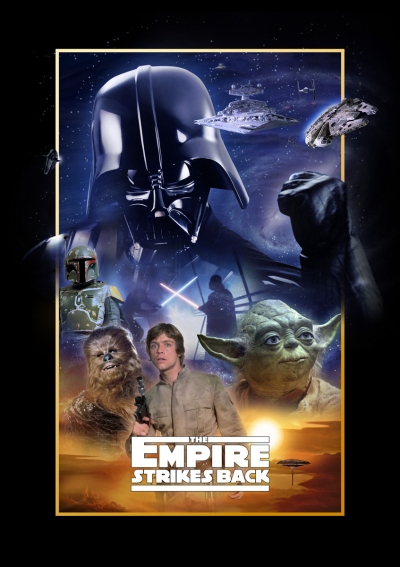 If you remember, I started the new page with another piece from this series, Attack of the Clones. Oddly, this one has the film title in it; I will harmonize it with the other posters later.
I made this poster some time ago and it took a lot of time to finish because I encountered many difficulties. Episode V has so many, often opposing themes: Vader vs. Yoda, dark side vs. light side, Luke vs. Han & Leia, love, betrayal, learning, losses, the white planes of Hoth, the swamps of Dagobah, the clearness of Cloud City, the dark tones of the lightsaber duel etc. It is not easy to select some of these themes and decide what to skip in order to keep the main themes of the episode while avoiding a too crowded picture.
I decided to skip Hoth mainly because the official poster by Drew Struzan solved this problem very elegantly by using only Hoth and the icons of the Galactic Empire. (His one-sheet for Episode V is one of the best posters ever, I think.) Instead, I used the orange-blue tones of the third act of the episode. I placed an overwhelming Vader image on the top (this is a composite image from three different pictures) – well, this movie is about the Empire striking back, isn't it?
I tried to balance Vader with Luke; his father looks down at him. Between them, on Vader's chest, we can see their duel – I love that part of the film! Around them, you can see Boba Fett, Chewbacca and Yoda.